Bijou Build Mainstay- Shipping February 2024
$599
Bijou Build Mainstay is an ideal play structure for all ages, from 3-103!
Constructed from outdoor-grade materials, assembly takes just one hour.
Bijou is a revolutionary collapsible play system that can easily expand and adapt to your family's needs. It also has the strength to withstand harsh outdoor conditions, allowing it to remain up 365 days a year. It is crafted from powder-coated steel, UV-resistant recycled water bottle panels and stainless steel hardware, supporting up to 250 lbs. and designed for ages 3+.
Bijou Mainstay includes:
5 interchangeable, UV-protected panels, 1 solar panel of 100 LEDs, 1 5ft hover platform, 5 anchor feet, 15 U ground stakes, all hardware, 2 carrying straps and a solid steel hinged top bracket.
You can install the panels in any order that works for you.
Explore: features a doorway opening with a 2-sided zipper,
See: is a windowed panel with a removable insert,
Shelter: is a solid wall with applique design and lots of UV protection,
Caper: includes a crawl through opening,
Clamber: features a climbing wall with ABS rings and polyester webbing.
Bijou Mainstay has an installed height of 9.5' and a base diameter of 7.5'. Each foot is 5' apart from the next.
For safety, Mainstay must be staked down with 3x 10" ground stakes on each anchor foot.
For residential use only.
Learn More
Learn more about wood options, please see out wood FAQ
Shipping: Shipping is Free. Orders are estimated to ship within 1-3 business days. For more information, please see our Shipping FAQs.
5 styles of teslin panels made of recycled materials - play in so many ways!

Solar panel with over 100 LEDs and 5ft floating platform

Innovative patented steel bracket and anchor systems tested for safety.

Easy setup - initial assembly takes less than an hour.

Comes together beautifully with five 10ft long pressure treated 2x4's

Customizable add-ons like a Bijou Bridge and Bijou Sway Swing!

Certified to all major safety standards for children's products (ASTM F963, F1148, EN71-1 and EN71-8)
Certified to all US and EU standards
We stand by the safety of our product and offer 100% satisfaction guarantee and a 5 year manufacturers warranty.
100% Satisfaction Guarantee
5 Year Manufactures Warranty
Learn More
We meet or exceed all US safety standards for Children's products and Children's outdoor play equipment including ASTM F963, F1148, EN71-1 and EN71-8
We perform UV, weathering, wind resistance and strength testing for any climate.
We conform to all standard use and abuse testing and perform extensive
misuse scenarios.
A structural engineer has evaluated all of our designs for safety.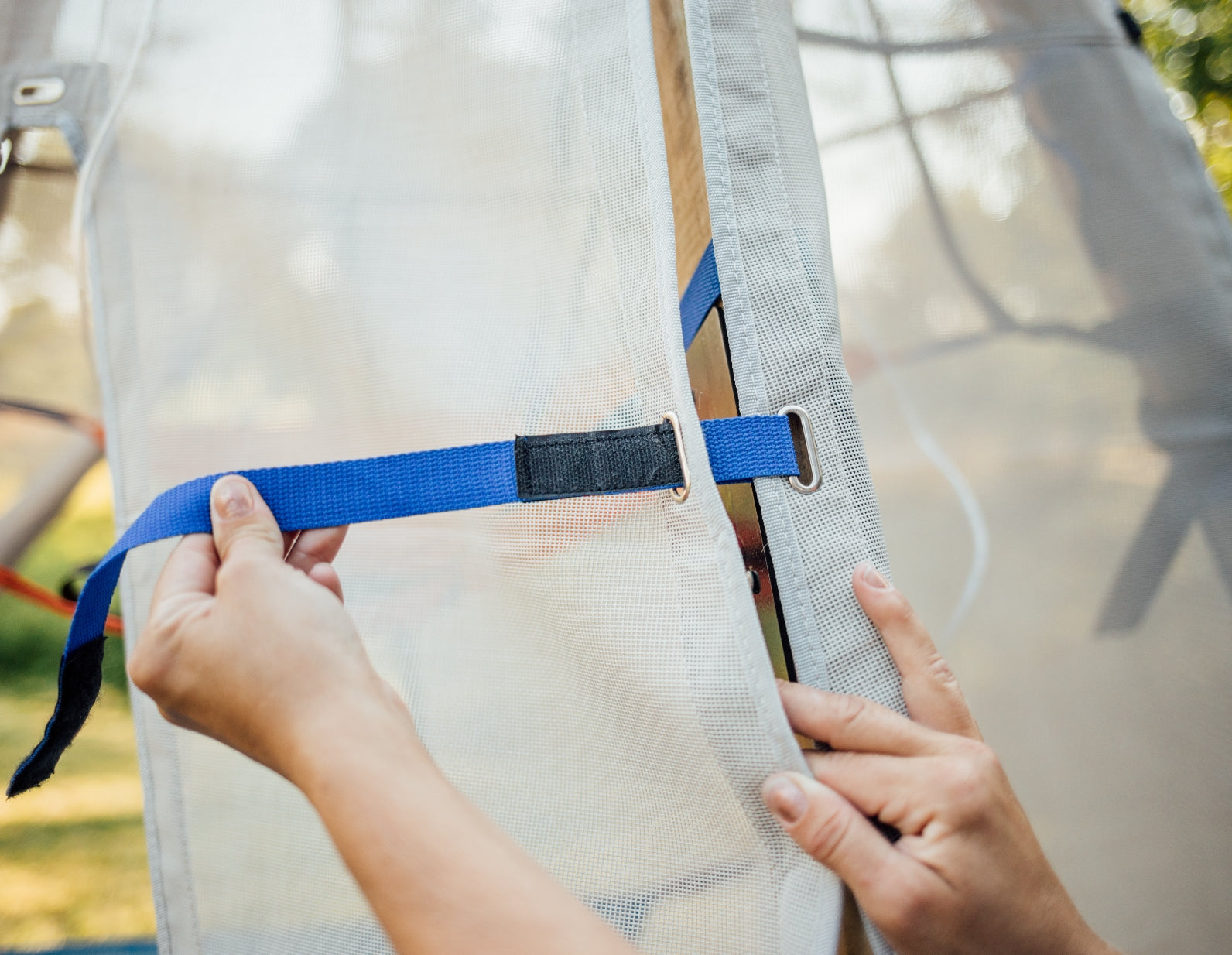 Polyester panels made using recycled water bottles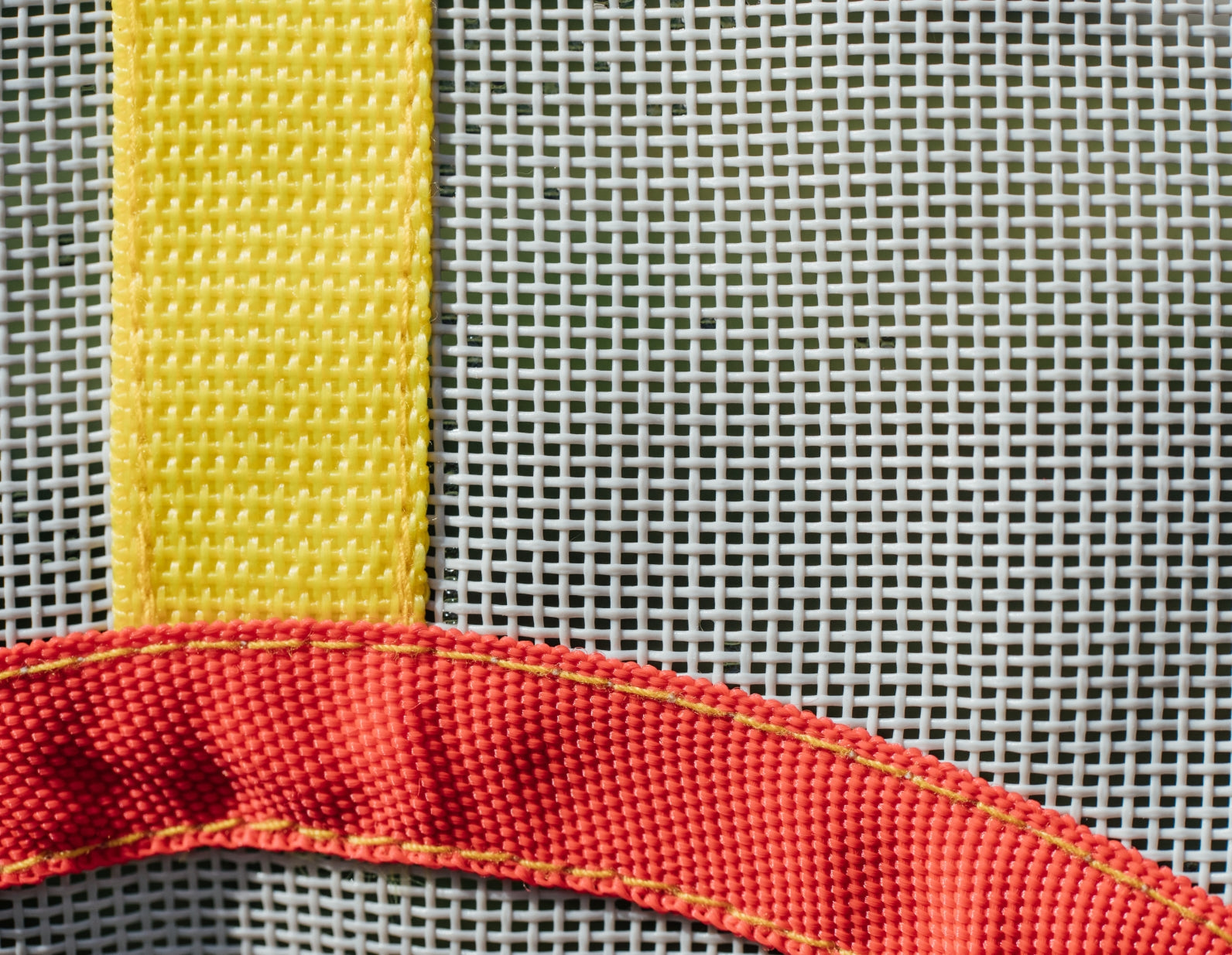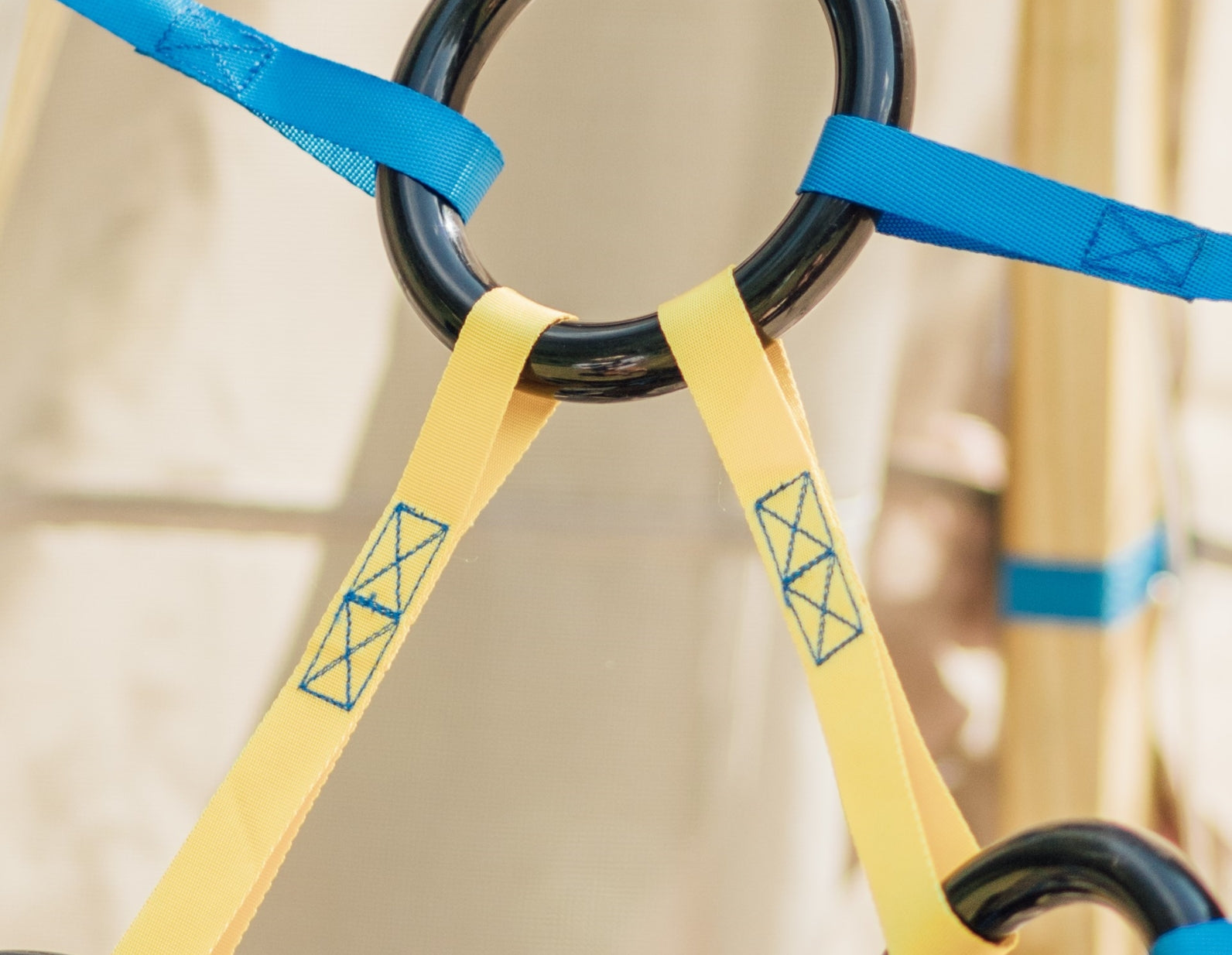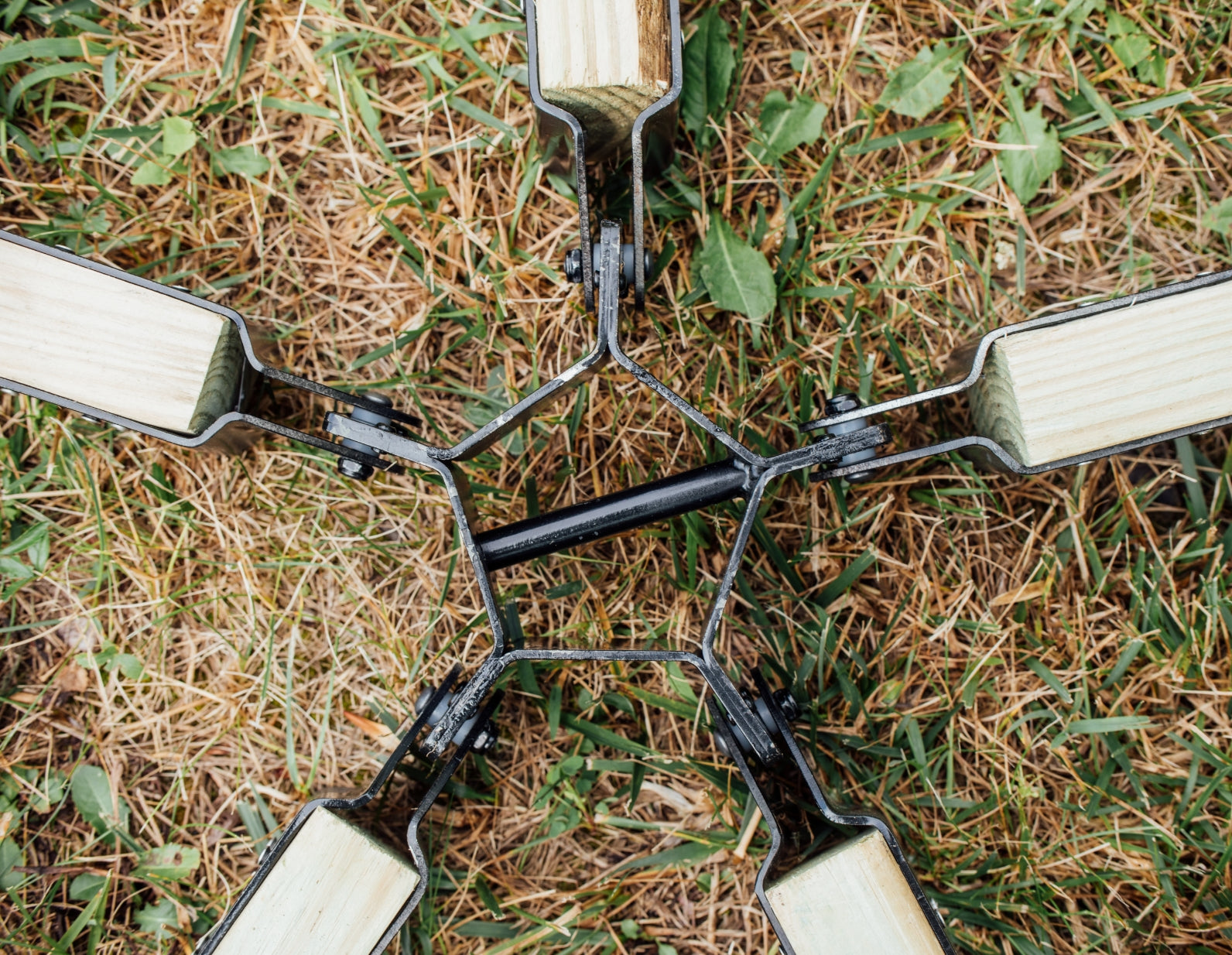 Over 100 wrapped LEDs lights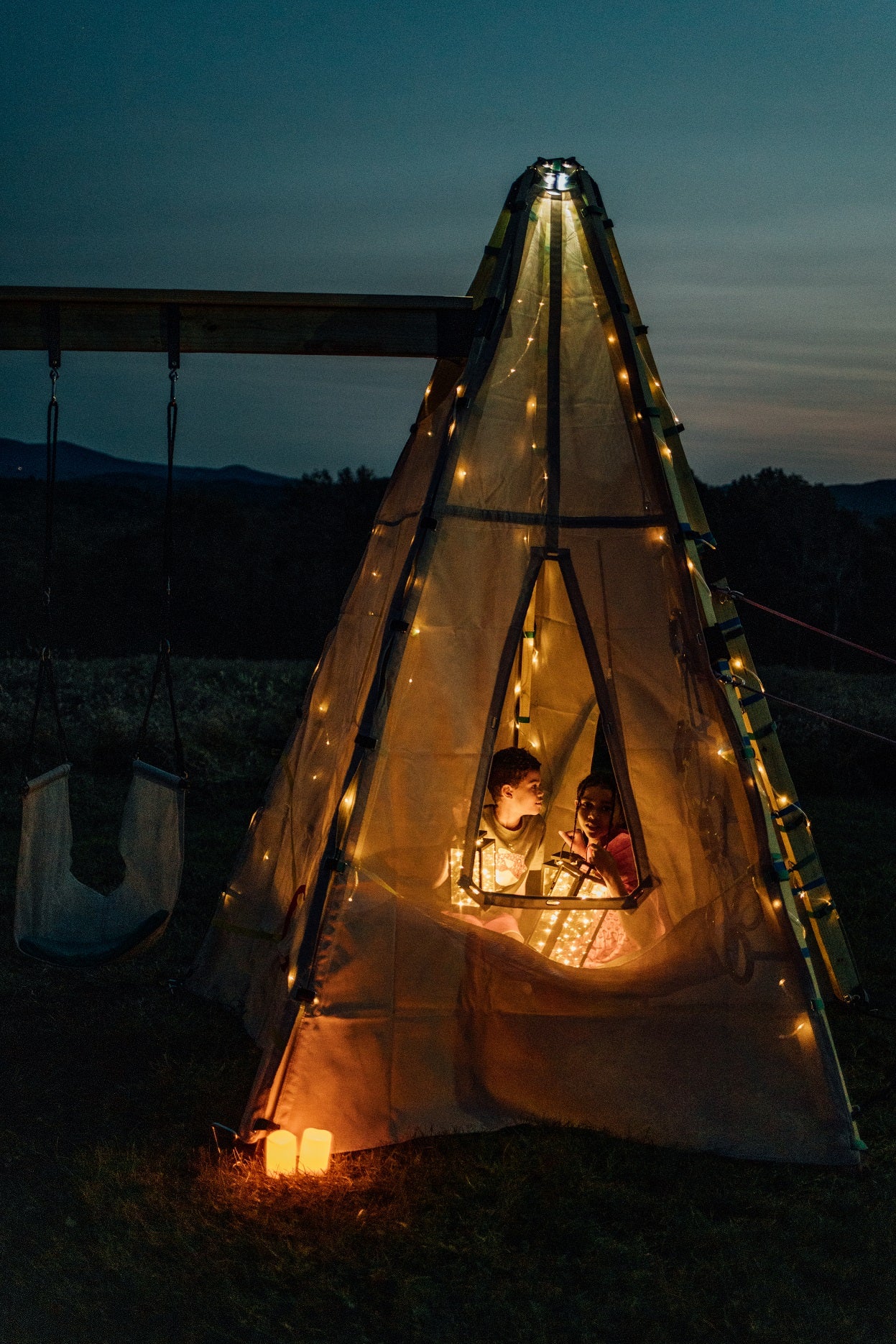 Solid ABS rings and UV protected webbing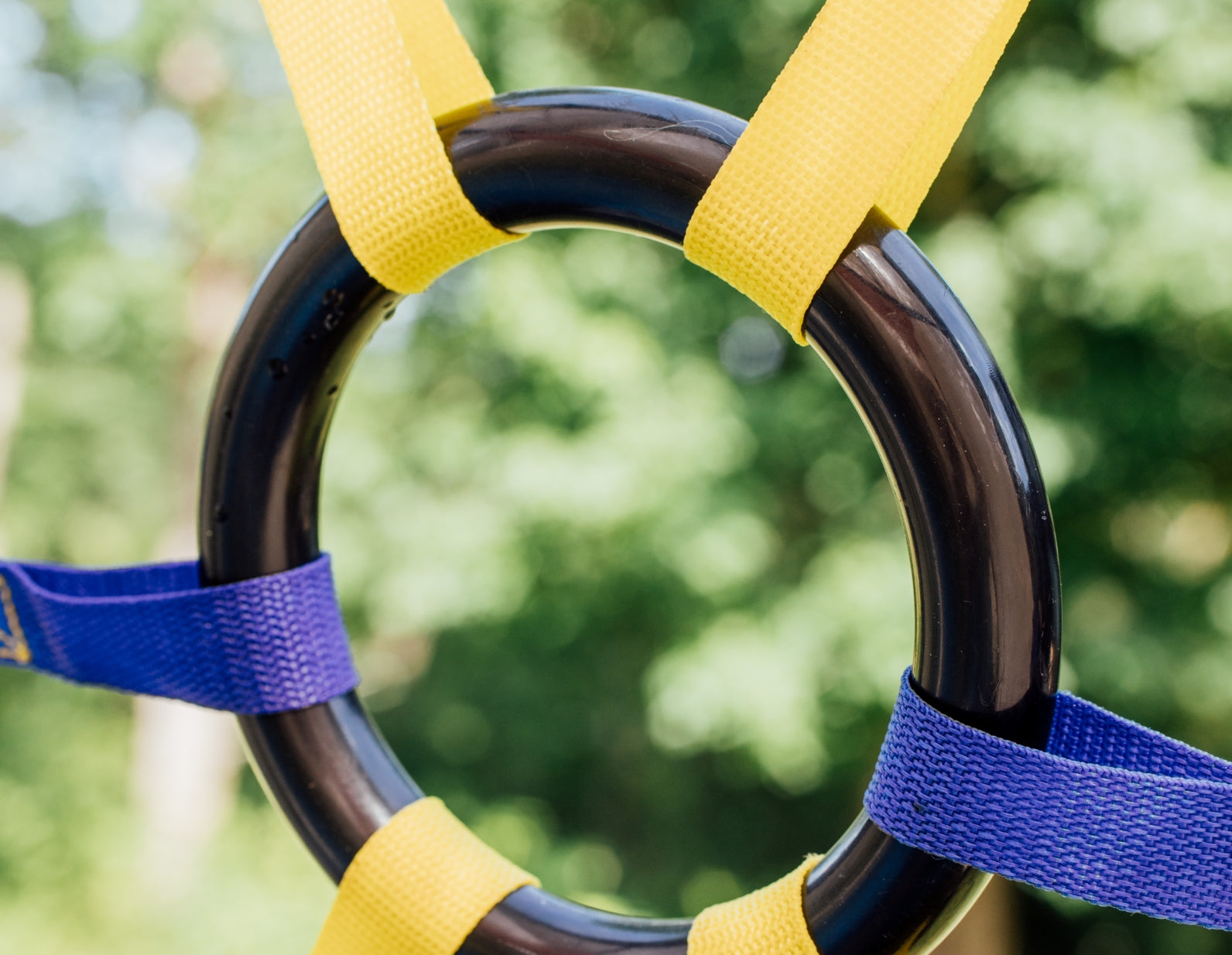 Easy Quick Setup!
Those kids keep you busy! Bijou is made for quick and easy assembly. Your initial assembly takes just under an hour with a helping hand or two.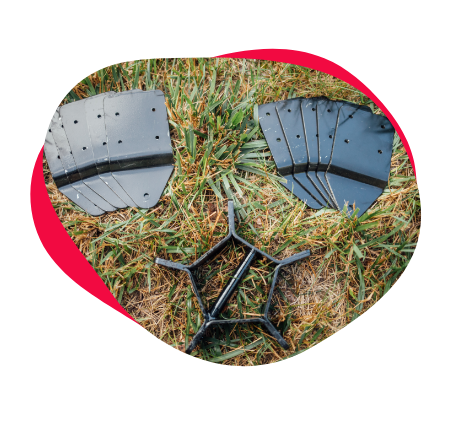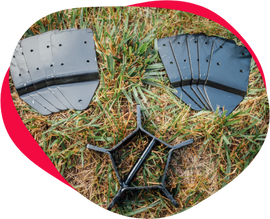 1.  SET OUT YOUR SUPPLIES
Ensure you have your Bijou Build kit and your pressure treated wood.
2. CHOOSE YOUR LOCATION
We recommend a relatively flat area, free of low-hanging branches or other obstructions. Also, choose a soft surface for staking.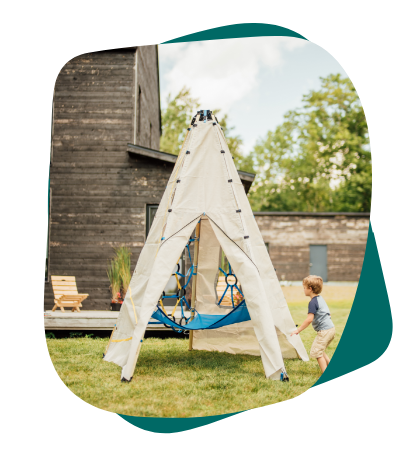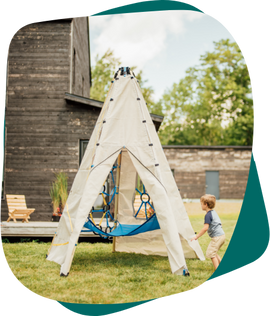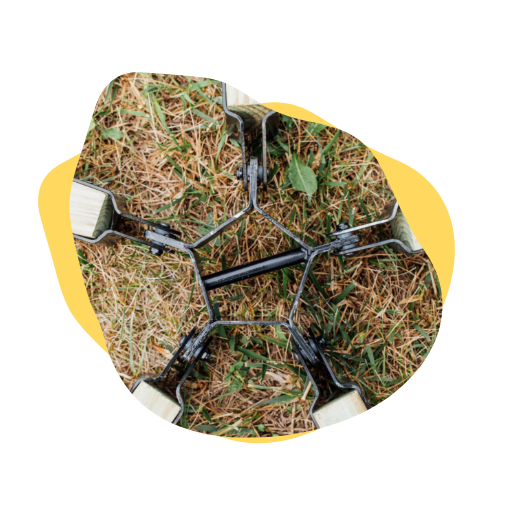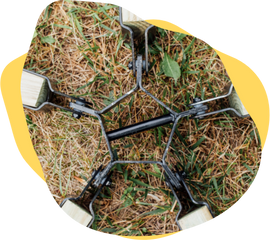 3. ASSEMBLE WOOD TO BRACKETS
It helps to have a couple adults in this step. See product manual for more detailed instructions.
4. ATTACH PANELS
Easily attach your five teslin panels in the order you'd like with the velcro straps provided.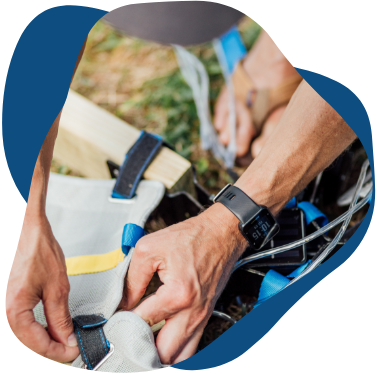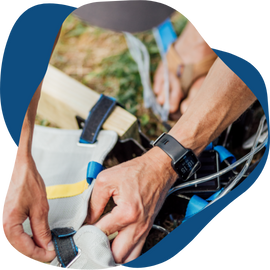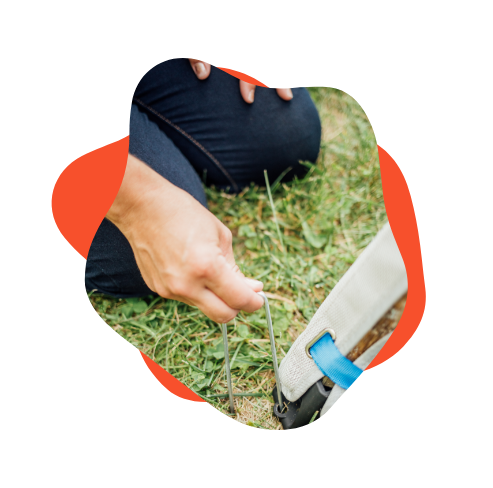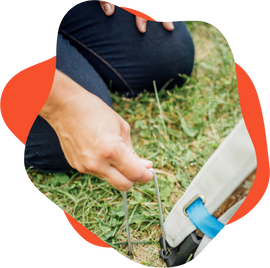 5. STAKE TO THE GROUND
Stake your Bijou Build to the ground to ensure everything stays put.
6. PLAY AND PUT AWAY
When you are done playing, remove the stakes, fold up the tent, and secure it with the included straps. We include easy to carry handles, so 2 adults (it's heavy!) can carry the Bijou to a new location or store it.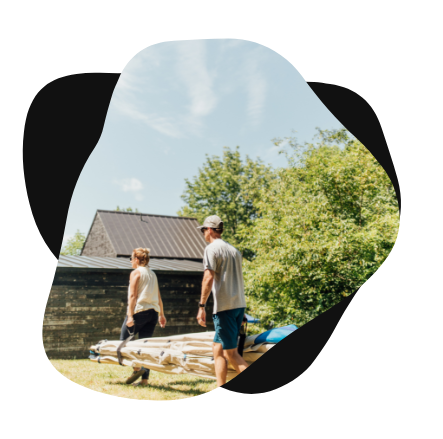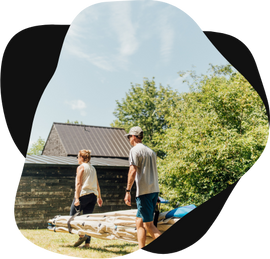 We're Customizable
Your family is one of a kind - so is your Bijou. Build and play in so many ways with customizable panels and add-ons. How you want, when you want.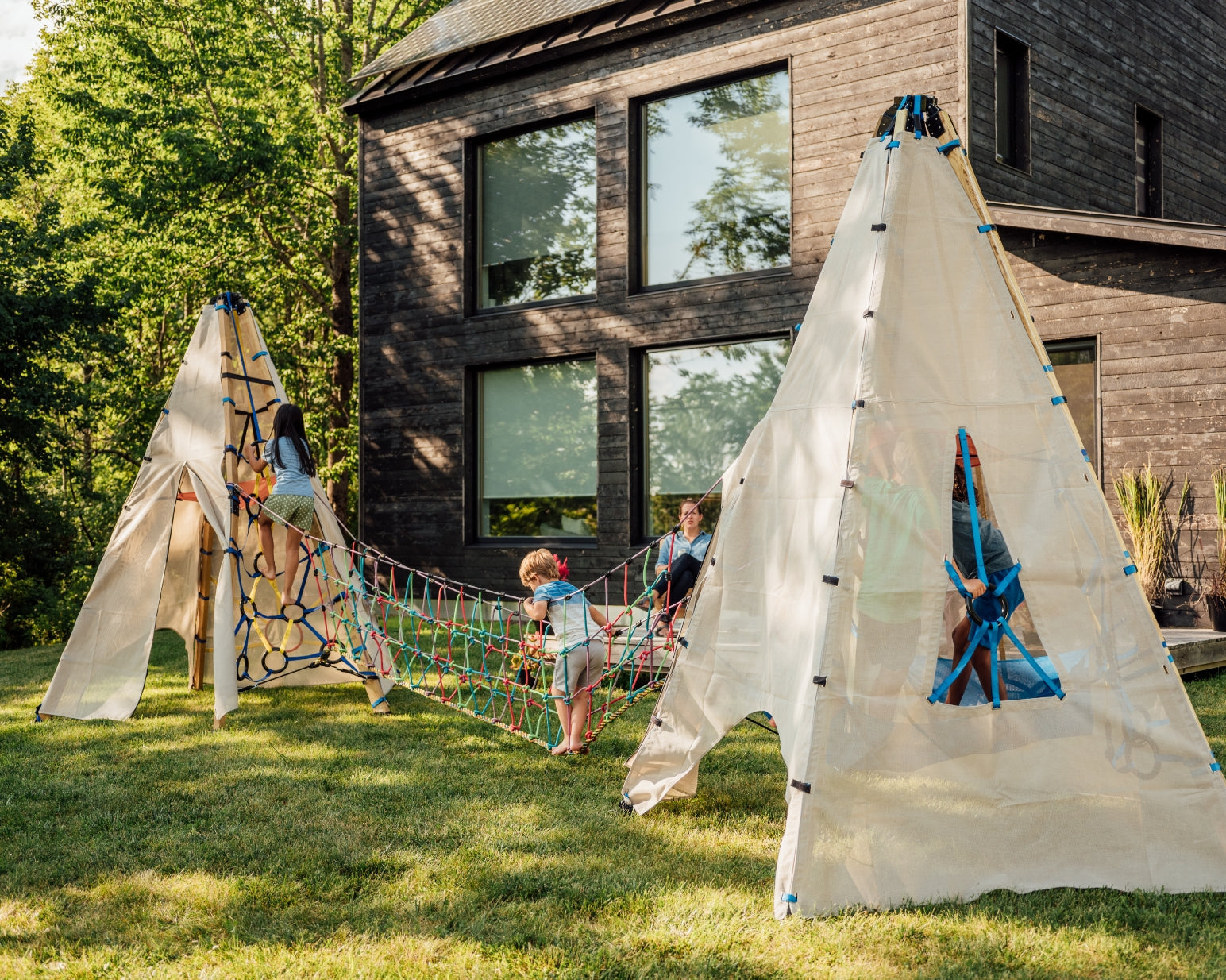 We're Stylish
Say goodbye to cumbersome playsets that take away from your stunning backyard. Our modern, playful aesthetic inspires imagination and style.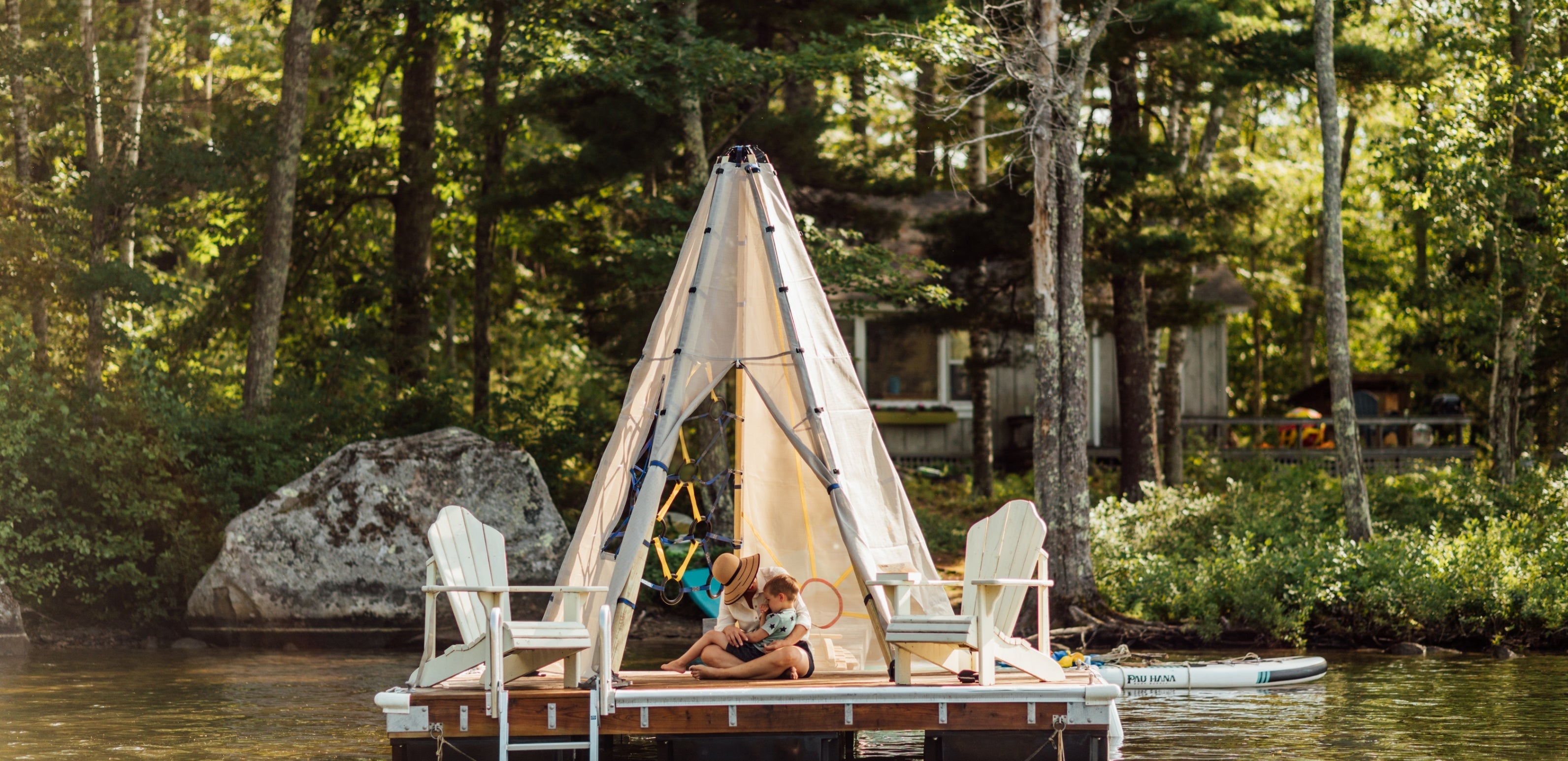 We're Sustainable
Not only are the Bijou Build materials easy on the environment, our playset is multi-use, meaning it will last for years to come.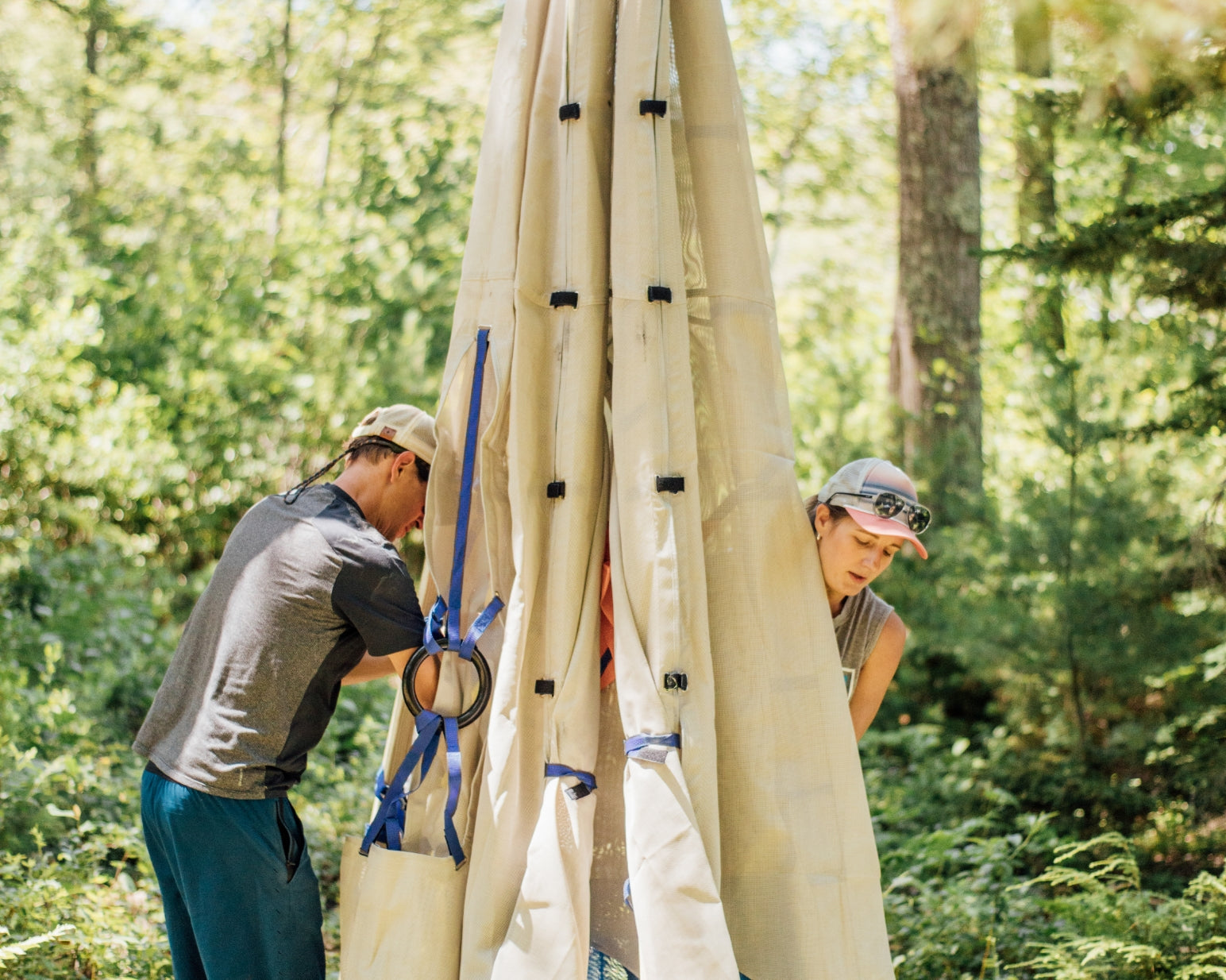 Customer Reviews
Great Addition to the Yard!
Kids are 5 and 7 and have loved the Bijou Build so much! I've loved how they can use it as a climbing outlet, and also a place for shade/imaginative play. They're looking forward to when it starts getting dark earlier so they can be out there when it is lit up. It has been a great purchase for our family! Good customer service too!
Perfect for our small backyard
The Bijou Build is perfect for our small backyard, and I love that we can move it around (or take it down) as needed. It's also aesthetically pleasing (no brightly colored plastic!) - and my kids have really enjoyed their new play structure!
Amazing addition to our backyard!
We were so excited when we found Bijou Build via Instagram. We knew we wanted a play structure for our kiddos but were not excited about any of the large (and very permanent) wood structures out there. So far our kids love the mainstay and we love how it looks in the backyard. Setting it up definitely took longer than advertised but once we got in a rhythm it was fairly simple. Very excited to watch our kids jump into imagination land with this beautiful play structure.
Novel play structure
We were committed to buying a more traditional play structure when we cam across a Bijou Build advertisement. What really sold us on it was it's movability. We don't have a huge backyard, and it is nice to know that we swap locations, or even put them away entirely, relatively easily to make room for things like badminton and croquet if we want to. We got two mainstays and are waiting for the rope bridge to ship in May. One we put the included hammock type seat in, and the other bought the swing for (which is a great place for parents to sit while playing with kids outside). The kids (6, 4, and 2) love it. We've set up obstacle courses in the backyard that involve climbing up, through and under the them. We hope the swing set attachment that is in some of the pictures on the website become available soon! We had a few missing parts that were replaced quickly after an email. The first one we set up took longer than an hour because we misunderstood how to attach the straps, but the second one was a breeze. Now I see that they've added an instructional video, so I'm sure that would help! We also love that we were able to save a couple hundred dollars by buying our own wood. It was definitely worth the hassle of strapping it to the roof of our minivan. I think we spent around $80 for 10 2x4's instead of the extra $200x2 (since we bought two sets) for Bijou build to order it for us. It's great that they give families that option!
Amazing Product and Even BETTER Customer Service
My inlaws bought us 1 bijou and the rope bridge. We bought another one. We ended up only being able to put up one because are yard was too sloped for 2 of them. Bijou Build was AMAZING especially for a small company with the return. They sent a shipping label and everything and made the return of the one seamless. In regards to the product, my kids love it!! It is very high quality and my kids have been climbing all over it. They were very excited when it lit up at night. I will say to be prepared that it took me and my husband around 3 hours to set it up. I think if you already have set up 1 and you know how to do it, it would take a LOT less time, but since were were using the instructions and figuring it out as we went, it definitely took longer. However, it was well worth it! I really won't hesitate to buy another one if we end up moving and getting more flat land! So bummed we couldn't set up two of them.
Our open-ended and modular design allows your kids to explore and play endlessly. The level of customization and play you get with your Bijou Build play structure you can't find anywhere else. 
Single-use, plastic playsets are often clunky, uninspiring, and bad for the environment. The Bijou Build's teslin panels made of recycled material are not only sustainable, they look beautiful too. 
There are so many ways you can Bijou and you can repurpose it as the years go by and the kids grow up, making it an environmentally responsible and stylish choice.
Just about anywhere! It's an outdoor play structure, but you can use it in the backyard, at the grandparent's, the lake house and more. We do recommend a relatively flat and soft surface, so the Bijou is safely staked to the ground and the kids can play to their heart's content.
It's actually peasy, lemon squeezy! Your initial assembly takes just under an hour with two adults. After that, whenever you want to Bijou, just pop it open, stake it to the ground, and get playing in just a few minutes.
You need a Bijou Build design kit from us, which comes with all the fixin's and five 10ft pressure treated 2x4's to be exact.  It comes automatically with your kit, but if you would prefer to get the wood from your local hardware store, you can indicate that at checkout as well (the price will adjust automatically). There's no fancy cuts- just good ol' 2x4's. 2x4's should be construction grade pressure treated for outdoor use. 
You will also need an 8ft step ladder and a drill to assemble the Bijou with the included wood screws.
With that, you're ready to get started!
We meet or exceed all US safety standards for Children's products and Children's outdoor play equipment including ASTM F963, F1148, EN71-1 and EN71-8. We've tested Bijou to the highest standards for use and abuse, torque and tension as well as weathering and UV testing.
Anyone with imagination! Kids, teens, parents, and grandparents alike. Bijou Build's nature-inspired aesthetic and modular design means it works for your whole family through the years.
Years and years! Our fabric panels have been tested for a variety of climates and extended use and abuse scenarios. Plus, your pressure treated wood stands up to the elements and, well, kids.  We want your family to use your Bijou and make memories for years to come.